When selecting an ideal core build-up material, there are several key features and characteristics that you should look for in the material. Choosing the right product means that you can reduce the number of total products that you are required to keep stocked in the surgery and eliminate confusion, especially with the need to have a matching adhesive for your core build-up material.
This article will cover all of the key components of an ideal core build-up material to simplify your decision making, and ensure you get a great, reliable experience with your core build-up.
The most important areas to consider in your decision on Core Build-Up material include:
FLEXURAL STRENGTH


The flexural strength of any core build-up material is an important component. The material needs to provide stability against intra-oral forces in order to remain consistent, durable and strong.
STABILITY


Stability facilitates the ability of the material to be built up without sloping. Stability is a vital component of a core build-up material to ensure that you develop a strong and reliable core as a foundation. Stability also facilitates the ability to complete a core build-up without the use of a matrix, further simplifying your procedure.
GRINDABILITY/TRIMMABILITY


The Grindability or Trimmability of a core build-up material refers to the feel of the material compared to natural dentin. Working with a core build-up material that is remarkably similar to dentin, ensures an enjoyable and consistent experience, which positively impacts your clinical outcome. There are a variety of academic studies that report on the dentin-like properties of different core build-up materials that can help you choose the ideal core build-up material.
It is so important for a core build-up to be sculpted and trimmed precisely, and an experience remarkably similar to dentin allows this process to be more consistent and effective.
Flowability refers to the ability of a material to flow under air pressure. This allows the material to effectively penetrate and access difficult areas of the tooth structure. Flowable material facilitates the ease of application of the material directly into the cavity of root.
SAFETY
It is of upmost importance to ensure that any product you choose to use in your practice is safe in order to ensure that patient safety is upheld to the highest stand. Choosing a product that is BPA Free is an important component of this to ensure that your patients are not exposed the potential harms of Bisphenol A. Research has linked exposure to BPA with problems including infertility, heart disease and other conditions (https://www.medicalnewstoday.com/articles/221205.php

). This is an important consideration when you select an ideal core build-up material.
CURING TIME


A dial-curing product is ideal, as it ensures that regardless of curing distance, you can rest assured that the entirety of your prepared core build up will cure effectively and remain as a strong and stable foundation.
VERSATILITY


A core build-up material that is versatile and can be used effectively in other procedures, such as root post cementation, is an ideal material to simplify your choice. Choosing a material that can accomplish a variety of procedures effectively will provide more convenience, efficiency and cost-effectiveness.
Dual-curing is another important component of a core build-up material that facilitates versatility. The dual-curing combination of light and natural cure allows a Dental Practitioner to ensure that the material will cure correctly, every time. This is especially true for root post cementation, where the material flows into a deeper cavity that is not easily accessible for a curing light. Dual curing allows you to treat this as a bulk fill and cure the top, allowing the self-curing property of the material to take care of the rest.
Another important component of any ideal material in the dental industry is a reputable, credible product from a manufacturer that is held in high esteem, and that you are confident and comfortable with. Using highly recognised industry recommendations such as the Dental Advisor, or your local dental association can inspire confidence in quality products that have been evaluated and reviewed in a thorough manner.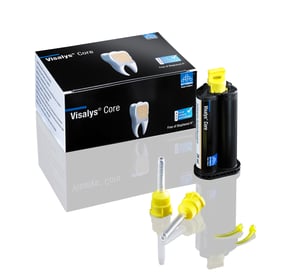 LEARN MORE ON HOW VISALYS CORE CAN SIMPLIFIY CORE BUILD UP.
SEE WHAT USERS THINK ABOUT VISALYS CORE.
Available Now with Gunz Dental
Try new Visaly's Core.