Dear Gunz Dental Customers,

We are currently navigating unchartered territory. It is a very worrying time for many Dental professionals and small business owners.

We are so grateful for all the work that the Dental industry is doing to stay practicing and providing oral care. You've been loyal to us and we will do all that we can to support you through these uncertain times.

Our priority is making sure dentists, and the medical community in general, have easy and immediate access to the financial support they need to get through the uncertain times ahead.

With all the new information appearing on an almost daily basis, we have done our best to collate all the resources we can to help you navigate your way through it. Visit our new COVID-19 Support Centre here.

We have had the opportunity to speak with many of you. We are hearing how stretched you feel, the concerns you have about being able to pay your staff and overall a state of panic. It's important to understand that when it comes to managing your finances in such unprecedented times, what is right for one may not necessarily be right for another.

There are, however, three key steps you can all be taking to try and reduce your stress and understand your options:

1. Call your accountant. The Government is announcing ways to support the economy, businesses and individuals on a daily basis. From the fivefold increase to the instant asset write-off to the job keeper payment, your accountant can assist you in understanding what your business can take advantage of.


2.Call your lender. Managing your short-term cash flow is key at this time. For some that may mean deferring repayments. For others it may involve accessing an overdraft facility to fund business or personal expenses. Let us help you explore your options.

3. Call your financial planner. The early release of super is a measure that many are considering thanks to the COVID-19 stimulus measures. It's imperative that you carefully consider the impact of today's decisions on your future. A discussion with your financial planner will help.

What we're doing at Credabl

We have invested heavily into full service digital capability at Credabl so that we can always meet the needs of our clients and now have all of our team working from home with everything they need to support you.

From a video chat with a familiar face, to providing financial support to fund business or personal expenses our specialist lending team is here to support you.

In addition, we have also partnered with Gunz to offer two funding options for clients:

1: No repayments for 12 months

Finance any Gunz Dental Products with Credabl before 30 June 2020 and make no repayments for 12 months.

2. Line of Credit

We have updated our personal and business overdraft product in order to provide financial support to fund business or personal expenses.

What is available?
Reduced interest rate of 7.99%* with no security required
Quick access to money when you need it
No interest unless you use it with interest only repayments
No application or account fees
Available for personal or business accounts
Fast tracked application and approval process
How to get in touch
Contact us through www.credabl.com.au/Gunz
Live Chat on our website – a member of the team is there to chat to you any time of day
Know a familiar face? Our team have been in the industry for decades so please reach out directly to any of the familiar faces below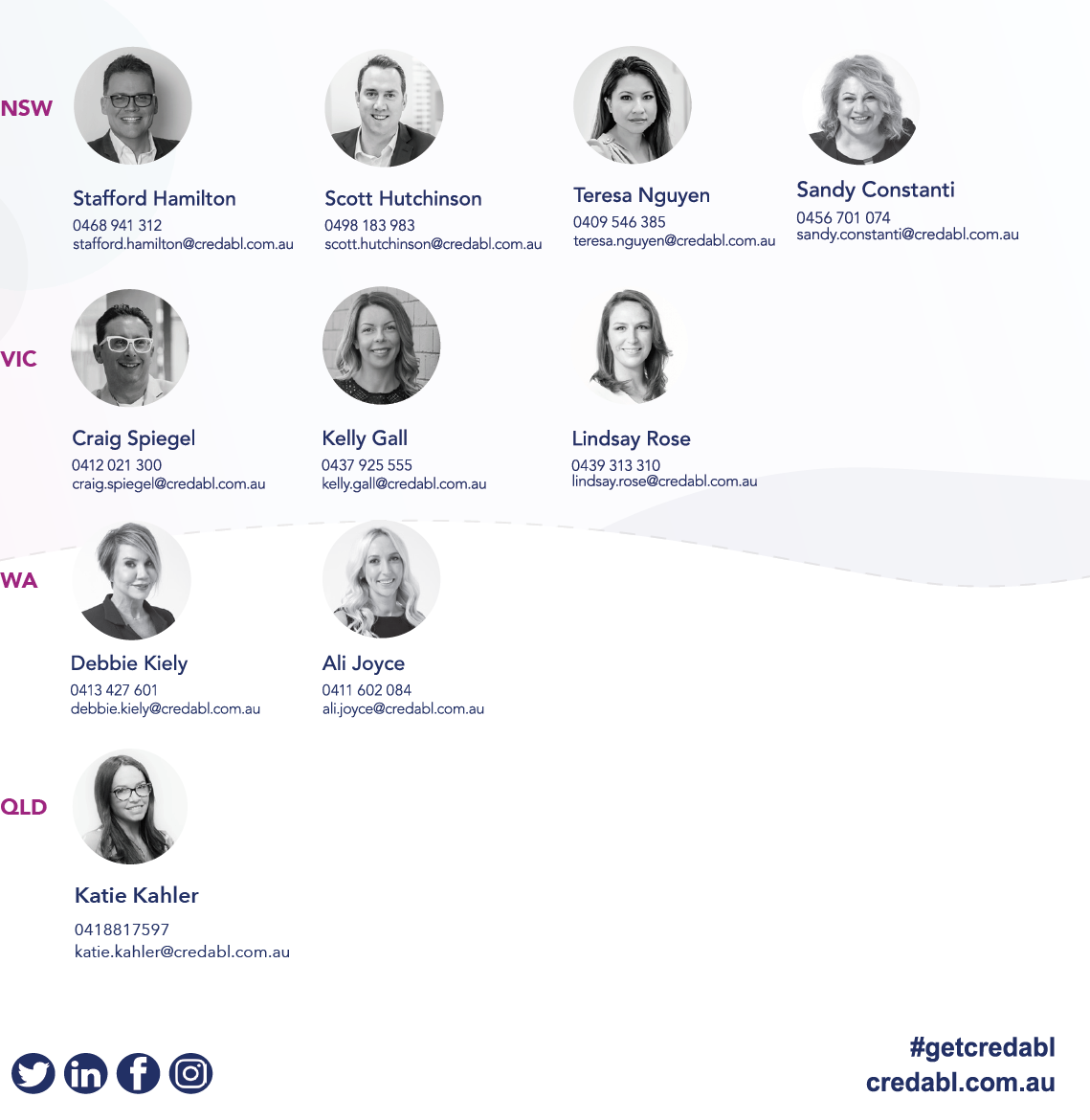 The Gunz Dental and Credabl teams are here to support you and your business through this time. We look forward to helping you soon.
Disclaimer
The issuer and credit provider of these products and services is Credabl Pty Ltd (ACN 615 968 100) Australian Credit Licence No. (ACL) 499547.
* A 7.99% p.a interest rate applies until 31 December 2020 on all new overdrafts where applications are settled between 25 March and 31 May 2020. Thereafter, the interest rate will then revert to the standard rate for overdrafts, currently 9.99% p.a. Terms, conditions, fees & charges, lending and eligibility criteria apply.
In relation to any promotions or offers by, relating to or referencing Credabl Pty Ltd (ACN 615 968 100) (Credabl) that are contained in this document (Credabl Promotion), this document is a guide only and does not constitute any recommendation on behalf of Credabl. The information in this document is general in nature and Credabl has not taken into account your personal objectives or financial circumstances or needs when preparing it. Before acting on this information you should consider if it is suitable for your personal circumstances. Credabl is not offering financial, tax or legal advice. You should obtain independent financial, tax and legal advice as appropriate. Credabl reserves the right to cease offering these products at any time without notice. The Credabl Promotion is subject to Credabl's terms and conditions, fees and charges and eligibility criteria. Gunz Dental Pty Limited ACN 111262 205 (Gunz Dental) is not an agent or partner of Credabl and is a separate and independent entity from Credabl. In no event will Credabl be liable for any actions, representations and / or decisions of Gunz Dental or its related bodies corporate, representatives, directors, officers, employees, agents or advisors.