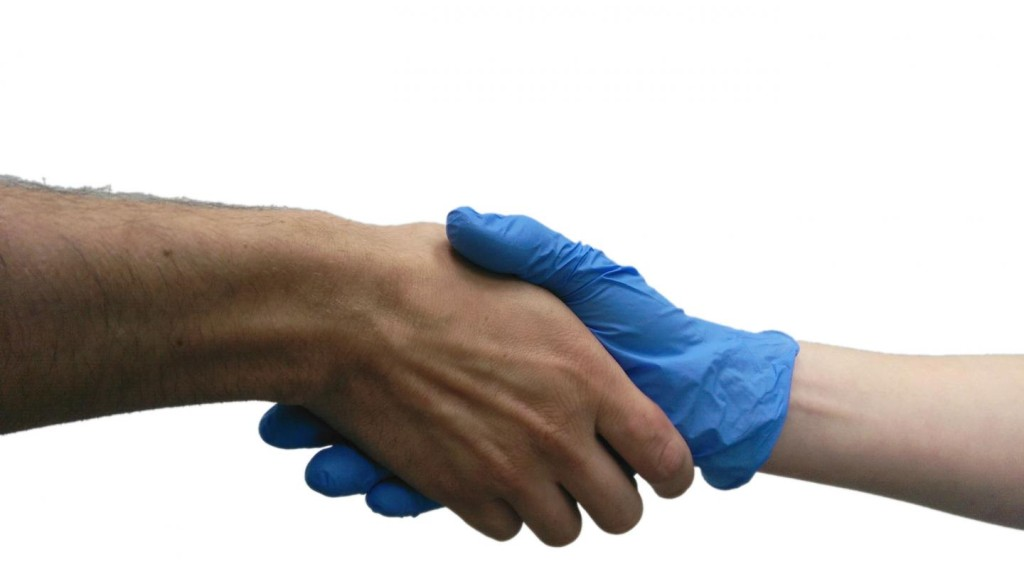 The Covid-19 virus has thrown the world into chaos, everything we knew has changed for now. It feels like we have been hit by a punch that has "knocked us into the middle of next month". It's a challenging time for everyone and a sad time too for those directly impacted by loss of loved ones due to this vicious virus.
Business wise, best practice is being re invented, what's needed now and for the coming months is best thinking.
One thing is certain though, and that is that the way most of us work has changed, certainly for the coming months and who knows after that.
VUCA meaning
In the early 90's, the US military coined the acronym VUCA following the collapse of the USSR. It stands for Volatility, Uncertainty, Complexity, Ambiguity and it's certainly front and centre in recent weeks that we are now operating in a VUCA world whether we like it or not! Jeroen Kraaijenbrink, a US strategist, developed a model, pictured below, titled "The Four Dimensions of VUCA" which allows us to visualise VUCA.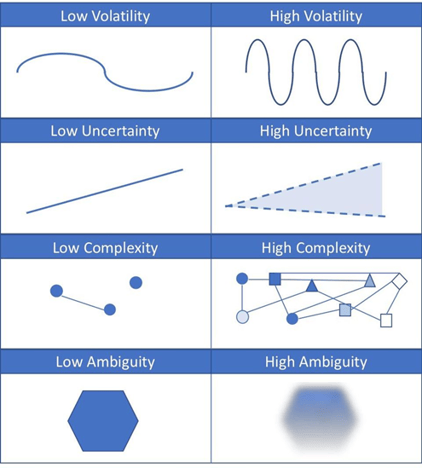 Certainly, the world we now operate in has all these dimensions which we as leaders must manage, so what approach should we take?
Leading in a VUCA world
COVID-19 has heightened emotions of anxiety, fear and uncertainty, resulting in feeling overwhelmed, and worrying. You and your team may be feeling some or all of these. As a leader, your team will be looking to you step up, to connect and support, and while most practices in Australia and New Zealand are closed except for emergencies how can you ensure you connect and support your people to ensure we "get to the other side" as our Prime Minister says?
Firstly, this is the time to look after yourself, be connected to your emotions, acknowledge and accept them and above all let yourself off the hook. Don't continually beat yourself up if you don't have an immediate answer or solution to all the complex problems you are working through both personally and business wise.
At present there are plenty of questions. Most of which we can't answer because we don't have enough data. What does this leave us with? A pile of uncertainty. And uncertainty, as you've probably noticed can be a particularly uncomfortable feeling. Our brains are hardwired to dislike it, and to equate it with danger.
Seligman's 3 Ps of optimism during adversity
Martin Seligman (commonly known as the inventor of Positive Psychology) developed a theory of learned optimism, a guide for how to frame adversity that has been found to effectively reduce anxiety.
This will not last forever. In times of increased stress and uncertainty as we are experiencing today, it can be easy to forget this. It's important to keep this front of mind as we go about our day to day activity …. This will not last forever.
Pervasiveness: This is not changing everything. This one is the most challenging in the current crisis because we are all acutely aware that COVID-19 is affecting a lot of what we know as "business as usual". In these difficult times acknowledging it and setting time aside to reflect and be grateful for what you have in your life is important to your mental health. Remember it's you who makes the choice about what you can control such as yours and others wellbeing.

Your effort will make a difference. You still control your thoughts, your feelings, your actions, and what you do will make a difference. Having clarity around what you stand for and who you are will drive your actions and decisions.
VUCA approach
There are lots of scientific studies that can guide our leadership VUCA approach in this new reality. Here are a couple of examples:
A manager displaying a VUCA Approach does not remain rigid in the face of impediments that can stall progress, motivates through personal example, creating opportunities for others in the organisation to achieve success (Kouzes, J., Posner, B., 1987, 2012, 2017).
Communion and familiarity, as well as communication of the expectations of both sides (manager-subordinate) will support the feeling of belonging to a common goal and vision, increasing the interpersonal confidence at the level of the whole team (Bick, R., Yu, T., Chang, M., Wang K., W., 2020).
Being mindful (not mind full!) positive and enthusiastic, and adapting our approach will help us get through the coming months. Understand your team and communicate regularly with them, be mindful of the feelings of each individual as they are likely processing the current situation with an anxious worldview.
We'd like to help you
Our partner, Great People Inside have used their unique customisation technology, to develop 4 new assessments to help, namely:
GR8 Remote Employee; GR8 Remote Manager; Great Remote Team; GR8 VUCA Leader.
Whether your people are working remotely or part time for you, as you and your team navigate difficult and emotional times, these new assessments will help you ensure your employees are being effective and that your business is functioning optimally.
The process is simple. Your employees simply take a short 10-minute online questionnaire on carefully selected work-related behaviours. As a leader or manager, you may wish to take the GR8 Manager or GR8 VUCA leader assessment.
Using GPI's proven psychometric science, we match their responses to the behaviors that are vital to remote work success. Once they complete, we provide you with important insights into their preparedness to excel remotely and importantly where they may need your support.
These powerful insights help you ensure your employee's wellbeing, enable your people to continue to work productively, and assists your business succeed in this new remote working environment.
We have developed special packages that will give you free access to these Great People Inside tools to help you make the best data informed people decisions and support your business and your peoples wellbeing.
If you'd like to learn more, please click on this LINK and we'll be in touch straight away. At the end of the day we are all in this together.
David Leahy
Directions Unlimited